Brand Name: QNICE
UVC
Origin: 
CN(Origin)
Certification: 
CE,FCC,RoHS
Voltage: 
24V
Item Type: 
UV GEL Curing Lamps
Model Number: 
BT TEST TOOL 222NM
Size: 
138.5*81*23mm
Mainly Test Wavelength: 
207-222nm
Wavelength Range: 
200-450nm
Measurement Range: 
200-405nm special for 207-222nm
Product name: 
spectrometer
Spectral bandwidth (FWHM): 
2nm
Illuminance Range: 
5lx~200klx
Chromaticity coordinate accuracy: 
±0.0025
Illumination accuracy: 
±4% Reading +1 Digital
WLP: 
222nm
stray light: 
≤0.3%
Wavelength accuracy: 
+ 0.3nm
Optional functions: 
UVA UVB UVC test
Application: 
Hospital,Hotel,Shopping mall,Supermarket
Function: 
222nm light lamps test tool test

2021 New Hot Sale Professional Test Tool of 207-222nm Light Lamps Spectrometer HP350UV for 222nm Wavelength Test Machine Device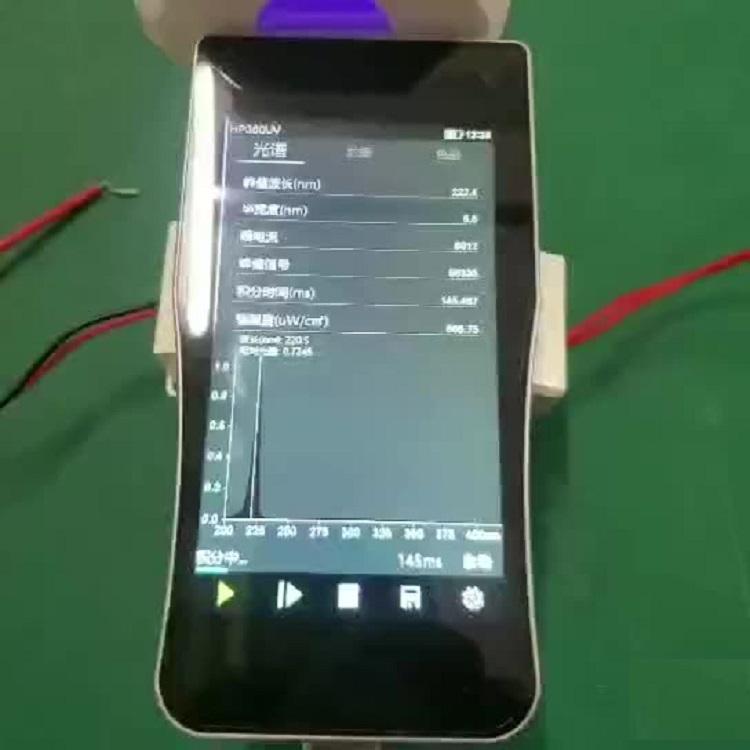 Main functions and features:

1.Test Function:
Measure the relative spectral power distribution , peak wavelength, half-peak bandwidth, UVA (315nm-400nm), UVA1 (UV 320-390nm) , UVB ( 280nm-315nm), UV365 , UV310 band, UVC (UV254nm), total irradiance in any specific band,with high measurement accuracy.Special for far uvc 207-222nm test.

2.The spectral analysis method is an ideal digital integration method, which is not affected by the spectral distribution of the measured light source and the response bandwidth function of the detector, it is the most accurate method for measuring UV irradiance.
Application:
The spectrometer integrates spectrum and irradiance test functions. It is widely used in UV light sources, disinfection, light treatment, aging, flaw detection, lithography, and light curing. , Breeding, plant , solar UV index evaluation, etc.
Advantages from Us:
It's not born for 222nm but we can make it special for 222nm. We will do the test and make sure its special for 200-230nm, special for far uvc 207-222nm wavelength test. Free your trouble or headache of messy of it needs professional test machines for the testing job special for fac uvc wavelength test.
Application and Product Details:
Your health, we care. Eyes and skin harmless far uvc lights.Widely used for schools,hospitals,church, train station, airport, super market etc public areas
Product details
FAQ

1.How long does the 222nm Far UVC starts to work for disinfection?
3 minutes after the 222nm uv sterilizer turning on.

2.Does this uvc wavelength harmful to humans or animals?
The 207~222nm excimer far UVC were announced safety UV lights no harm to people or animals and with strong virus kill ability.

3.What certificates do you have?
We have CE,RoHs,Fcc,FDA,SGS,ISO9001. As well as reports on bacteria and virus disinfection.

4.Can we have it door to door?
Yes, DHL,Fedex or TNT supported.Can reach you with door to door 4~8days accordingly.

5.Does it accept payment way of Paypal,West union,Credit card etc?
Sure, anyway as you convenient.

6.Can do you OEM or ODM? And how can we be a wholesale or distributor?
Yes, for sure; Just feel free to contact our sales managers.They will feedback you in a professional way.
Contact
ShenZhen QNICE Tech CO.,LTD. (focus on safety FAR UVC light 222nm)

Web:www.qniceuvc.com
 Mail:kiki@qniceuvc.com
kerr@qniceuvc.com
doris@qniceuvc.com
Tel/Fax:+0755-24983519
Mob/What'sapp:+0086 13266704131
+0086 18537966101
+0086 18652156966
 Add: Qnice Tech Building, WaiHuan Road, ShiLongZai, ShiYan, XiXiang Town, Baoan District, Shenzhen, China