Quick Details
Input voltage: DC24v
Lamp Wattage: 60W
UV Wavelength: Far -uvc 222nm
Voltage: 110~240v(with adaptor)
WLP: 222nm
Ambient Temperature Range: Max:50℃,Min:-30℃
Lifetime: Modules 4000H Fixture 15000H
Glass Tube: High Purity Quartz
Storage Environment: Dry,and Ventilation Enviroment
Dimensions: 350mm x 312mm x 88mm
Effective UV Intensity with filter: 3000uW/cm²
Safety requirement: Mercury-free
Optional functions: Motion sensor and timer module
Beam angle: 120°
Application: Home,Office,Retail spaces,Restaurant,School
Weight: 2.1kg
Power Supply: Rechargeable Battery Pack
Light Source: Quartz Tube
Switch Mode: Manual Button
Safety Requirement: Mercury Free
Material: Quartz Glass Filter, Aluminum Alloy, ABS
Brand Name: QNICEUVC

Certification: CE
Origin: CN(Origin)
Item Type: UV GEL Curing Lamps
Model Number: Tri-222nm Series
Voltage: 24V
Function and applications
Pure 207~222nm far UVC excimer disinfection and germicidal lamp.
1.24V output,safety operation. 2. Not only kill bacteria but also infection virus 3. Harmless for people eyes and skin 4. Widely used in hospitals, schools, supermarket,retail store etc. public areas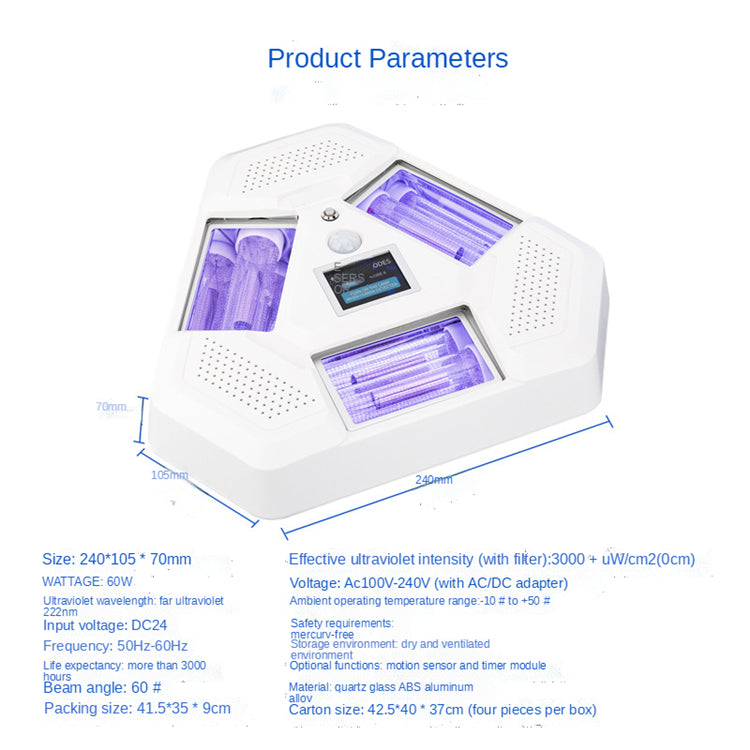 Your health, we care. Eyes and skin harmless far uvc lights.Widely used for schools,hospitals,church, train station, airport, super market etc public areas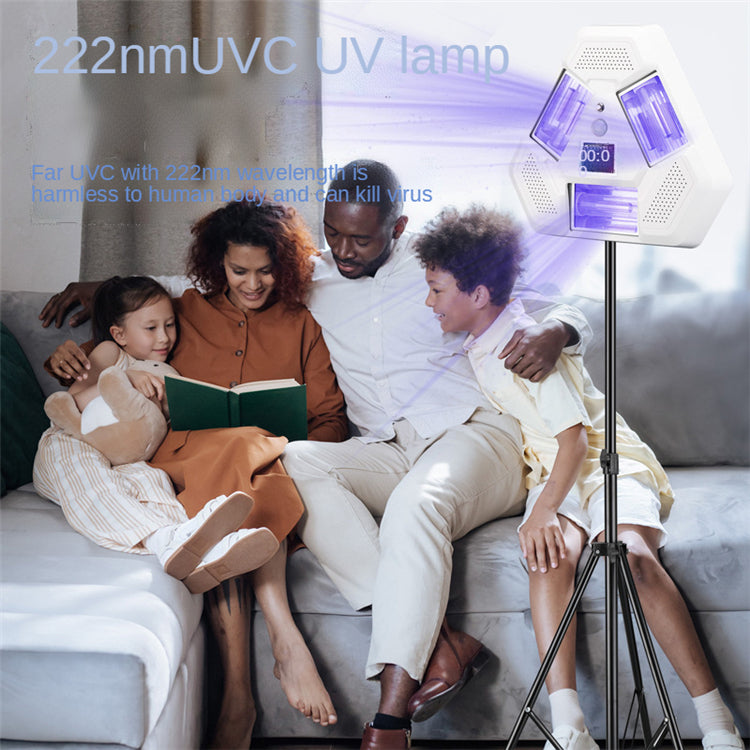 Product details
1.Sensor design,auto turn on or turn off according the application. 2. Remoter control, much more convenient 3. LCD Display easy for read its work status 4. Integrated design, no need to worry about the install. 5.Power adapters make it plug in, works.
Parameters of Safe 222nm Far UVC Light 60W Triple Disinfection Sterilizer
*222nm far uvc excimer lamp 60w triple filtered UV Sterilizer with 3sets 20w Filtered module light angle at 30 degrees widen its intensity range *Excimer 222nm UV lamp 60 watt disinfection sterilizer widely used factories, hotels, office, hospital or any public occupied air clean. Sterilization Germicidal Lamp in car and handbag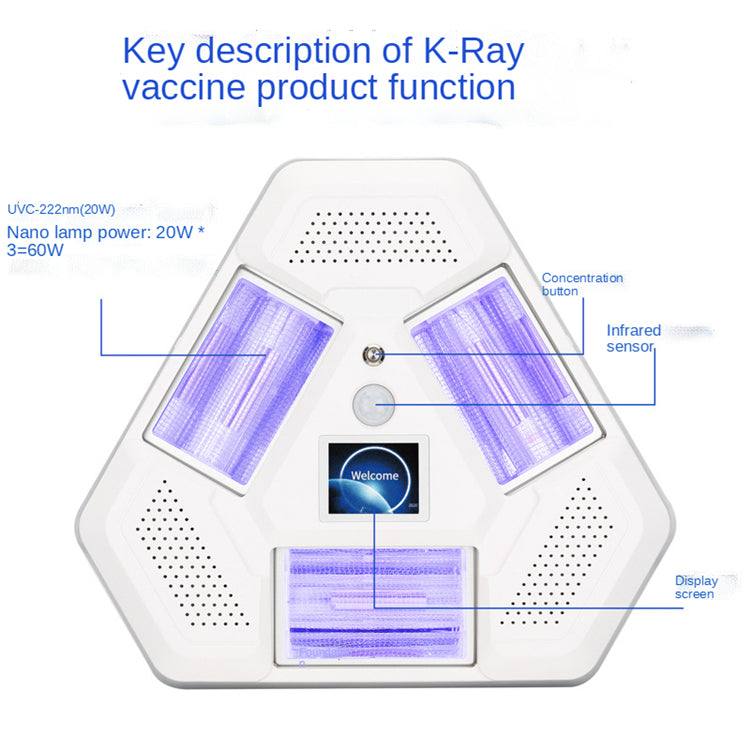 Comparison of 222nm and Other UV Light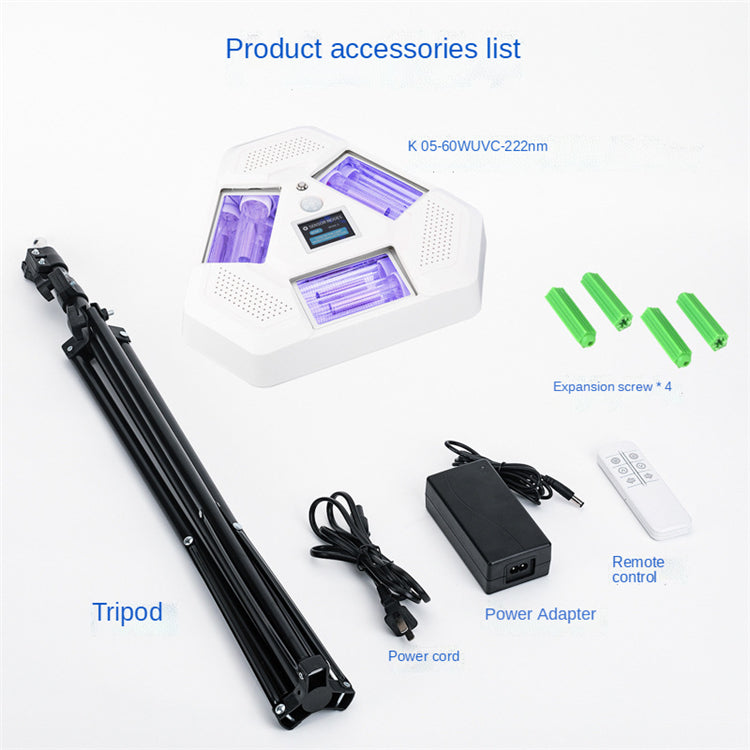 Safety Reports of Safe 222nm Far UVC Light
Far UVC LIGHT 222nm was discovered to be effective against the current virus without risking the health of humans. Several institutions found that Far-UVC light is safe for human beings to use for repeated irradiation of 222nm ultraviolet radiation(UV-C) with high disinfection power does not cause skin cancer, suggesting its safety on human skin and eyes. It's been tested 222nm Far UVC lamps did not cause erythema(redness) of mice skin. Many microbiological test reports from different countries or institutions also proved the 222nm Far UVC lights can kill bacteria and viruses in the air or on surfaces, such as Escherichia Coli,Staphylococus Aureus,Candida Albicans,H3N2 Influenza A virus H3N2,A21 Human Coxsackie virus A21,Human enterovirus 71,H1N1 Influenza virus H1N1 etc. We can and will provide relevant test report data if customers need.
Application of Safe 222nm Far UVC light
It can be widely used in public areas to stop bacteria and virus spread,such as elevators,hospitals,public transportation centers,stations,hotel,retail spaces, shopping mall, supermarket,airport,bus station,home,medical,office, retail spaces, occupied areas,general areas,restaurants, public toilets,barber shop,convenience stores etc.
Certificates of Safe 222nm Far UVC Light
Currently we've been got certificates of CE,RoHs,FCC,FDA,SGS,ISO9001 on our 222nm Far UVC lamps.UL is under application.
FAQ
1.How long does the 222nm Far UVC starts to work for disinfection?
3 minutes after the 222nm uv sterilizer turning on.
2.Does this uvc wavelength harmful to humans or animals?
The 207~222nm excimer far UVC were announced safety UV lights no harm to people or animals and with strong virus kill ability.
3.What certificates do you have?
We have CE,RoHs,Fcc,FDA,SGS,ISO9001. As well as reports on bacteria and virus disinfection.
4.Can we have it door to door?
Yes, DHL,Fedex or TNT supported.Can reach you with door to door 4~8days accordingly.
5.Does it accept payment way of Paypal,West union,Credit card etc?
Sure, anyway as you convenient.
6.Can do you OEM or ODM? And how can we be a wholesale or distributor?
Yes, for sure; Just feel free to contact our sales managers.They will feedback you in a professional way.
Contact
ShenZhen QNICE Tech CO.,LTD. (focus on safety FAR UVC light 222nm)

Web:www.qniceuvc.com
 Mail:kiki@qniceuvc.com
kerr@qniceuvc.com
doris@qniceuvc.com
Tel/Fax:+0755-24983519
Mob/What'sapp:+0086 13266704131
+0086 18537966101
+0086 18652156966
 Add: Qnice Tech Building, WaiHuan Road, ShiLongZai, ShiYan, XiXiang Town, Baoan District, Shenzhen, China