New F
AR-UVC 
Sterilizer Disinfection 
222nm 
NEW SHIELD in the fight against Super Virus. tool that efficiently and safely inactivates airborne viruses.
QNICE UVC technology Far UVC or 222 nm, it's that wavelength that initial studies shows to be both effective and safe for humans. FIRSTUVC 222nm technology may provide immediate relief in mitigating outbreaks in populated indoor spaces, thus we need safe and effective technology for indoor public spaces where people gather—from airports, schools, and public transportation to all forms of entertainment venues—that can effectively reduce pathogens.
FAR-UVC 222nm TECHNOLOGY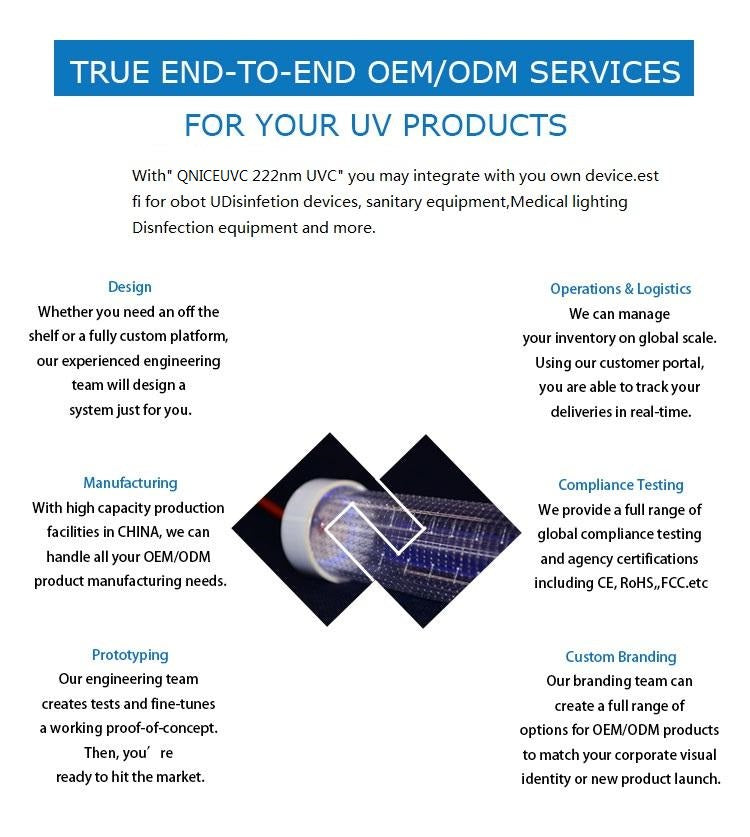 1.How long does the 222nm Far UVC starts to work for disinfection?
​3 minutes after the 222nm uv sterilizer turning on. ​
​2.Does this uvc wavelength harmful to humans or animals?
​The 207~222nm excimer far UVC were announced safety UV lights no harm to people or animals and with strong virus kill ability. ​ ​
3.What certificates do you have?
​We have CE,RoHs,Fcc,SGS,ISO9001. As well as reports on bacteria and virus disinfection. ​ ​
4.Can we have it door to door?
​Yes, DHL,Fedex or TNT supported.Can reach you with door to door 4~8days accordingly. ​ ​
5.Does it accept payment way of Paypal,West union,Credit card etc?
​Sure, anyway as you convenient. ​
​6.Can do you OEM or ODM?And how can we be a wholesale or distributor? ​
Yes, for sure; Just feel free to contact our sales managers.They will feedback you in a professional way.
ShenZhen QNICE Tech CO.,LTD. (focus on safety FAR UVC light 222nm)

Web:www.qniceuvc.com
 Mail:kiki@qniceuvc.com
kerr@qniceuvc.com
doris@qniceuvc.com
Tel/Fax:+0755-24983519
Mob/What'sapp:+0086 13266704131
+0086 18537966101
+0086 18652156966
 Add: Qnice Tech Building, WaiHuan Road, ShiLongZai, ShiYan, XiXiang Town, Baoan District, Shenzhen, China