Input Voltage(V):DC 24V
Lamp Luminous Efficiency(lm/w):5000
Warranty(Year):1-Year
Support Dimmer:No
Lighting solutions service:222nm Far Uvc Disinfection Sterilizer
Lifespan (hours):4000
UV Optical Power:5000μW/c㎡
Peak wavelength(nm):222nm
Wavelength Range:207~222nm
UV Wavelength:FAR-UVC 222nm
Appplication Area(㎡):30
Safety Requirement:Mercury Free
Application:Home,MEDICAL,Hotels, Office, Retail stores
Switch Mode:Remote Control, Manual Button, bluetooth, Motion Sensor
Material:Quartz Glass Filter, Aluminum Alloy, Sandlasting Oxidation (Silver)
Products Description DC 24V 2A Adaptors Special for 222nm Excimer Far UVC Light Lamps Module DIY Design
207~222nm FAR-UVC Disinfection Sterilizer,
an innovation of FAR-UVC. 207~222nm excimer Far UVC lights application is new SHIELD in the fight against Super Virus. The disinfection sterilizer of 222nm uv light or lamps are new
tools that efficiently and safely inactivates airborne viruses.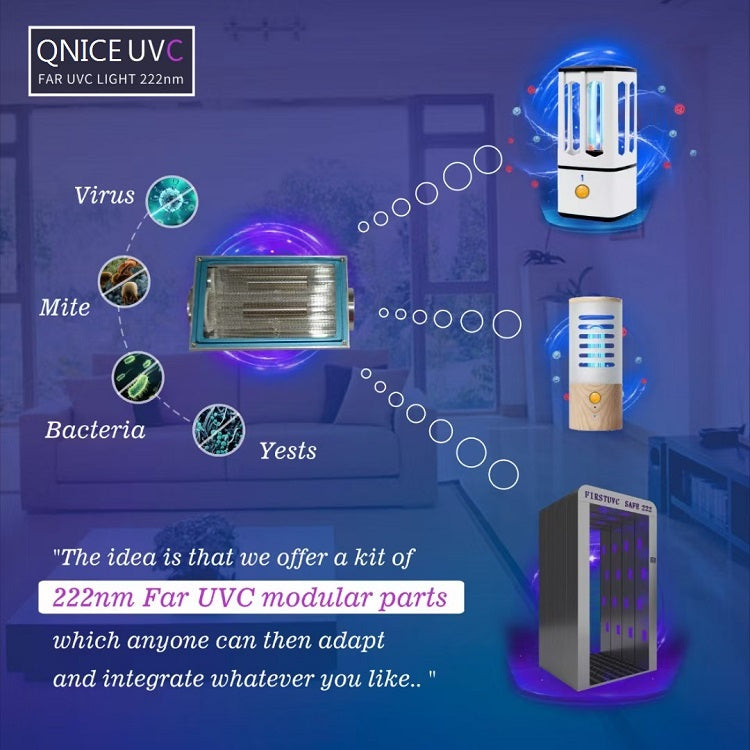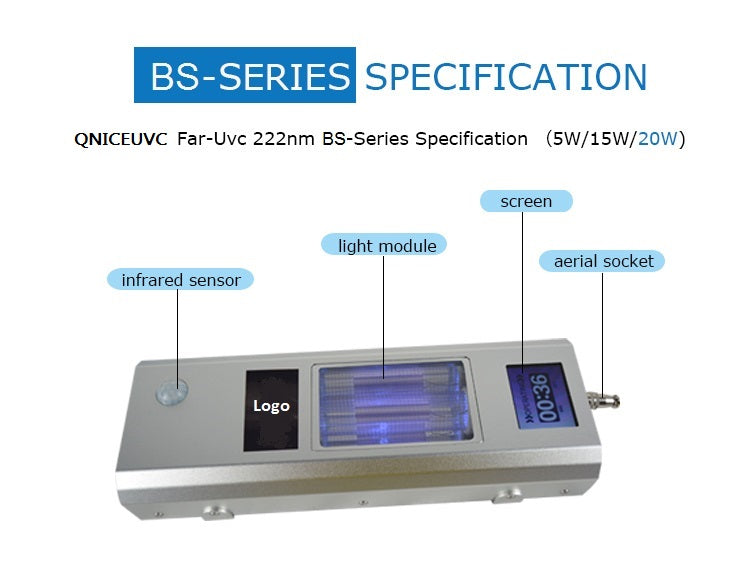 Specification&Product Details
·Mercury-free,environmental protection
·LCD Display,easy monitor work status
·Motion sensor, auto work
·Router control, easy operation
·DC24V input,safe voltage
·Long lifespan, no less than 4000h
·Coated Quartz Glass as filter,pure harmless lights
·207~222nm wavelength,safety wavelength range
·Aviation aluminum cooling fan and ventilation holes, excellent cooling performance
·Support several installation way as wall mounted, hanging, ceiling etc, flexible and easy on fix install.
Far-UVC 222NM
FAR UVC LIGHT 222nm were discovered to be effective against the current virus without risking the health of humans.
Several institutions found that Far-UVC light is safe for human beings to use for repeated irradiation of 222nm ultraviolet radiation(UV-C) with high disinfection power does not cause skin cancer, suggesting its safety on human skin and eyes.
It's been tested 222nm Far UVC lamps did not cause erythema(redness) of mice skin. Many microbiological test reports from different countries or institutions also proved the 222nm Far UVC lights can kill bacteria and viruses in the air or on surfaces, such as Escherichia Coli,Staphylococus Aureus,Candida Albicans,H3N2 Influenza A virus H3N2,A21 Human Coxsackie virus A21,Human enterovirus 71,H1N1 Influenza virus H1N1 etc.
We can and will provide relevant test report data if customers need
Application of 222nm Far UVC Light
It can be widely used in public areas to stop bacteria and virus spread,such as elevators,hospitals,public transportation centers,stations,hotel,retail spaces, shopping mall, supermarket,airport,bus station,home,medical,office, retail spaces, occupied areas,general areas,restaurants, public toilets,barber shop,convenience stores etc.
Certificates of 222nm Far UVC Light
Currently we've been got certificates of CE,RoHs,FCC,FDA,SGG,ISO9001 on our 222nm Far UVC lamps.UL is under application.
Package Details
10pcs in one carton box.1pcs also get support on delivery.
Our Service
1. Welcome OEM/ODM.
You can use your own brand or design or ours.

2.Quality control.
1)Before the order can be confirmed finally,we would strictly check the material , dimension of the sample step by step
2)We salesman ,also as a order follower,would trace every phase of production from the beginning
3)We have a QC team ,every product would be checked by them before packed
4)We would try our best to help clients solve  problems when they occurred

3.Welcome to visit.
When you come to our company visit us, we will arrange car for picking up and help you book hotel. If you want to visit the local scenic spot, our colleague will accompany you.

4.After-service
a.In production and after delivery, we will track on time and tell your goods situation.
b.When the goods arrived, if you find any design and quality question, or difference from your samples, please feel free to contact us, we will find the question and solve it with you.
FAQ
1.How long does the 222nm Far UVC starts to work for disinfection?
3 minutes after the 222nm uv sterilizer turning on.

2.Does this uvc wavelength harmful to humans or animals?
The 207~222nm excimer far UVC were announced safety UV lights no harm to people or animals and with strong virus kill ability.

3.What certificates do you have?
We have CE,RoHs,Fcc,FDA,SGS,ISO9001. As well as reports on bacteria and virus disinfection.

4.Can we have it door to door?
Yes, DHL,Fedex or TNT supported.Can reach you with door to door 4~8days accordingly.

5.Does it accept payment way of Paypal,West union,Credit card etc?
Sure, anyway as you convenient.

6.Can do you OEM or ODM? And how can we be a wholesale or distributor?
Yes, for sure; Just feel free to contact our sales managers.They will feedback you in a professional way.
Contact
ShenZhen QNICE Tech CO.,LTD. (focus on safety FAR UVC light 222nm)

Web:www.qniceuvc.com
 Mail:kiki@qniceuvc.com
kerr@qniceuvc.com
doris@qniceuvc.com
Tel/Fax:+0755-24983519
Mob/What'sapp:+0086 13266704131
+0086 18537966101
+0086 18652156966
 Add: Qnice Tech Building, WaiHuan Road, ShiLongZai, ShiYan, XiXiang Town, Baoan District, Shenzhen, China